biography_biographie
Michele Choiniere is an award-winning Smithsonian Folkways recording artist, with a radiant, compelling voice. Her music and artistry capture a delicate sensibility, overlaying a raw authenticity. Her concerts transport audiences to another time of wistful cafe-cabaret culture, with riveting rhythmic melodies or a wistful lament, which stay with you long after the concert has ended. Born into a musical Franco-American family in northern Vermont, Michele began performing traditional Franco-American music at an early age with her father Fabio, an accomplished harmonica player. In 1995, she began writing and composing her own songs and has performed to audiences throughout New England, Quebec and France. Her lyrics and music focus on nature, romance and social issues connected to being Franco-American. She has been featured on TV5 International's 'Visions d'Amerique,' which was broadcast to francophone nations worldwide, as well as on Vermont Public Television's 'Rural Delivery' and 'Profile.' She has recorded an archival family collection of Franco-American music with her father and is featured on the Smithsonian Folkways CD 'Mademoiselle Voulez-Vous Danser: Franco-American music from the New England Borderlands' released in 1999. In 2003, Michele self-released her debut solo album, Coeur Fragile, following up with her 2010 release of La Violette to critical acclaim. Among other accolades, Michele has appeared in concert at the American Folk Festival (Bangor, Maine), the Lowell Folk Festival (Massachusetts), the Great Lakes Folk Festival (East Lansing, Michigan) and the Tadoussac Folk Festival (Quebec). She is a recognized 'master artist,' having been awarded the prestigious and competitive Governor's Heritage Award in 2007. She is a member of the Vermont Arts Council's American Masterpieces program, as well as a juried Arts Council performer and teaching Artist.

Michele's performances blend traditional Franco-American and Quebec folk songs, original compositions, jazz standards, and an occasional French classic.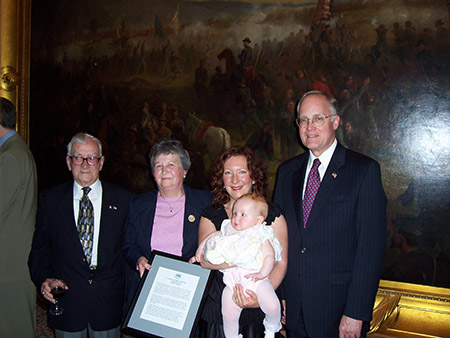 Michelle with Governor Douglas at the Vermont State House.
David Gusakov's lifetime career as a violinist has ranged from classical, as a member of the Vermont Symphony Orchestra since 1973, to hard driving Bluegrass with Pine Island and Banjo Dan & The Midnight Plowboys. He has performed with such luminaries as Vassar Clemens, Emmylou Harris, Peter Rowan and John Denver. Born in the heartland of America, Gusakov has travelled the world with his fiddle as his passport, and currently teaches music in his Bristol studio.
Will Patton, mandolinist and all around string wizard, is also well known for his fine bass playing. He draws a strong influence from jazz, Gypsy, and Brazilian music. His collaborations with the manouche guitarist Ninine Garcia from Paris, documented in the CDs Peripherique and String Theory have been enthusiastically reviewd both in the U.S. and abroad. He teaches jazz mandolin at Jay Ungar and Molly Mason's Ashokan Camp and the Django in June Festival at Smith College. He has performed with Mosa Allison and his bands have opened for such acts as Ray Charles, Bonnie Raitt and Van Morrison.
Dono Schabner was born in Germany, but grew up in Pennsylvania and Long Island, NY. He started playing professional guitar at age 12 with Italian wedding bands. At 17, he hit the road to play R&B around the US, Caribbean, and elsewhere. After time, Dono decided he needed a break from the road and he went back to school to become a special educator. In 2000, Dono moved to Vermont, where he met his beautiful wife Lauren. In his day job, Dono works in education in northern Vermont, while playing a mean swing guitar at every other opportunity. He is grateful to his mother, who introduced him to good music at a very early age.
Click here for a link to articles and reviews on Michele and her music, including CD reviews of her recent release, La Violette!